Musing on Gentle Femdom With my Submissive Husband
Gentle female domination is part of my dynamic with my submissive husband. Yet it does not wholly define me as a Domme. Today on my blog I'm musing on GFD.
My thoughts on gentle femdom (GFD) are mixed, and I hope that by working through them today I can develop a better understanding of my feelings. At the same time, I hope to offer food for thought for you.
---
If you're interested in a more recent article about my thoughts, I shall call to your attention this one:
Gentle Fem Dom is my Dynamic, not my Whole Identity as a Domme Wife
When I reflect on what identities resonate best with me, being only a gentle Domme doesn't encompass all that I am. There is so much more to my dominance than just tender moments and nurturing.
Yet gentle femdom is what most comes into play in my dearheart's dynamic since he likes it "rough, but gentle."
It's not as if I'm service Domme – I don't do GFD for my husband, but with him. We co-create our dynamic, and out of all the things we've tried this has stuck most firmly. I enjoy it, and I'll die laughing about it.
However, there's other aspects of my dominance I wish to explore that I must save for other dynamics. It's expected, as my dearheart simply cannot be everything – no one person can be my everything. It's my polyamorous nature.
There are some Dommes who do identify with GFD of course. Take for example The Gentle Domme, who recently shared her thoughts about GFD on her podcast: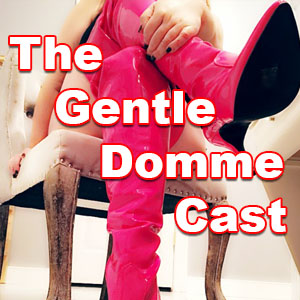 In it, The Gentle Domme alludes to the fact that gentle femdom isn't well defined, beyond this notion of gentleness and that it's an arbitrary subset of femdom. Often with conflicting definitions.
For my own consistency, I posit that gentleness is found in the tone of the relationship, but that it's not distinct from femdom in general.
You can still have sadism as a gentle Domme, for instance. Toying with your sub's mind, delaying gratification ruthlessly, offering funishments, and engaging in sensual play like flogging.
I know that the degrading persona of a harsh mistress is not one that appeals to me. I've even written about what drives my dominance: leadership.
Personally my identity as a Domme wife overlaps with my professional identity, which is why I am so attracted to gentleness. I try to be aligned with both identities, bringing empathy, astuteness, persistence, and confidence wherever I go.
I enjoy being nice, and helping people with my skills and knowledge. Whether that be at a computer with work, in the meeting room, or with a pinwheel in bed.
Most of all, I like being in control.
Gentle Femdom as Shorthand for Communicating
I suspect gentle femdom is rising in popularity as a rejection of the harsh, uncaring stereotype of a Domme that is present in media. Understandably GFD serves as shorthand for communicating a need to be loved, praised, or sexually desirable as a submissive.
Gentle domination also feels F/m oriented – it feminises gentleness and nurturing, and offers a safe space for masc people to engage their emotions. It lets men in particular explore their identity in ways that transgress stoic cis-het masculine norms.
Which is why I was so surprised when a woman I recently dated turned out to be into gentle femdom. Though she didn't have a word for it until I suggested she look into GFD.
Which is really the value that gentle femdom brings as a keyword: it's easy to convey several ideas with a couple words.
She preferred things on the soft side: praise, affirmation, and sensual play. She also was scornful of my favourite toy: the Wartenberg pinwheel. She decried it as looking like a medieval torture instrument! Not to mention being disinterested in physical discipline, and degradation.
She seems fairly typical of someone who pursues gentle femdom.
GFD and Nurturing Doesn't Mean I'm a Mommy Domme
As many dominants desire, I too want a competent partner that is able to serve me. I don't want to be relegated to care-giving for a non-functional sub.
After all, within my household I'm more like an executive than a mommy domme. I don't want to care for my family like a matriarch, and I have no interest in age play. I want to treat my partners like the autonomous adults they are!
I also want my partners to be skilled enough to improve my household's ability to accomplish great things.
My nurturing nature is not about coddling my dearheart. Down that path lies weakening him and mediocrity. Instead my goal is to constantly build him up. I have an article that muses on how I strive to nurture his growth:
I strive to find the sweet spot of difficult enough to learn from and easy enough to complete. Then I progressively give him harder and harder challenges.
Unlike a mommy Domme, I don't want to hold his hand through everything. I'm also unwilling to let my care go unappreciated. I even saw a recent Tweet about it that I enjoyed:
What is given can also be taken indeed! Though I doubt I will ever reach such an ultimatum, given my unconditional love for my dearheart.
The Gentle Femdom Reddit is Full of Fantasy
One thing I've struggled with is the GFD subreddit. I browse it occasionally, but frequently I'm disappointed by its heavily fantastical posts. There's two factors at play here:
First is that I prefer practical, realistic depictions of dynamics to pure fantasies. I also don't have any interest in roleplay. I'm reserved and only engage in play that feels authentic to me, which is what drew me into femdom in the first place. I get my way, and I need not pretend to be anything but what I am!
That's also not to say that there's anything wrong with fantasies in general. Fantasy is a great safe space to explore sexuality, and a great exercise in imagination. It's just something that doesn't appeal to me at all.
I'm bloody-minded pragmatic.
The second factor is that the subreddit is full of male-gazey masc wish-fulfilment that doesn't cater to my feminine interests. As a Domme, I'm not in the target demographic for a lot of the re-shared manga and comics.
What results is that I'm often bored with reading the gentle femdom reddit.
Though there are a few artists I enjoy, who even branch out besides F/m. I love the diversity they bring! It's cute and funny.
I've heard that in the past, Tumblr was the mainstay of gentle femdom content. Sadly I was not around during that era, and now that it's all gone I'm left to wonder where the good Domme focused content creators have migrated to.
Until I find them, I suppose I can continue to lurk the GFD subreddit.
Closing Thoughts
Bouncing around in my head are plenty more thoughts on gentle femdom, but these were the ones top of mind today.
The big take-away is that whilst my dynamic is gentle, my identity is that of a Domme. That comes with plenty of nuance and sometimes contradictions.
I think the notion of consistent selves is a narrative lie we tell ourselves. I can be many different things, and it changes with time. The fact that I sometimes contradict myself is just a human failing, to which we are all subject.
So it's no surprise that despite being gentle in general, I still have a sadistic streak. I don't think it's incompatible with being gentle, though I choose to rarely exercise it with my dearheart. He wouldn't appreciate it as much as I would prefer.
If you're curious about my relationship with my dearheart, I've written more about it here: